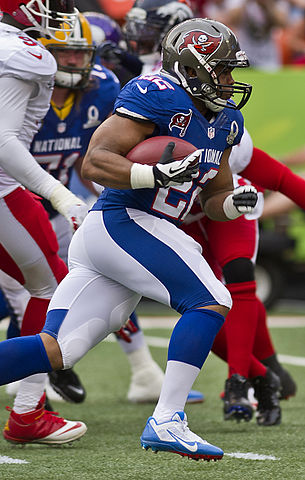 Quick: which running back had the best single game in fantasy football last year?
How about this one: who is the only running back to have two of the top six fantasy games last year?
Has to be Adrian Peterson, right?
Each year, there's one name that triggers "ooohs" and "aaahs" during every fantasy football auction. That causes people to sit up, to shuffle their papers, to nervously click through the hundred projections they've pulled up on their laptops. They take an extra drink, light a cigarette. And the numbers fly fast and the price rises quickly. This year, that player is All Day, Adrian Peterson. People will jump out of their seats to bid on him. Shouldn't you?
Well, stay seated for just a second. Because if you answered "Adrian Peterson" to those questions up top, you were wrong.
Readers of this site know about Doug Martin, aka the Muscle Hampster. In 2012, he got decent pre-season hype in a year with few exciting rookie running backs, and he surpassed that hype easily, accumulating 1,454 yards on 319 carries, with an additional 472 yards receiving and a total of twelve touchdowns. In most leagues, he was second only to Peterson at running back. But Peterson's year was epic, the kind of season that wins teams championships, and that gap between first and second was big enough to drive a truck through.
So you know Doug Martin, but you're probably not jumping out of your seat for him. Which is fine. Stay calm, don't tip your hand. But here's why I'll sit on my hands when I hear Peterson's name called on draft day, and why it's Martin's name that'll have me reaching for my cigarettes.
To start, I am not going to argue that Peterson isn't worth a pile of money. But auction leagues, and especially auction keeper leagues, are all about buying the most points for the least money. This isn't some silly snake draft where you're dependent on which pick you land. The choices you make with your cap room will make the difference between a trophy and another miserable year. So, yes, Peterson is incredible, but you're not going to steal him from under your league's nose. Given the projections that the experts are placing on him, he'd have to repeat his amazing 2012 season for you to get your money's worth. As my friend Jeffrey Jon Pitts explains, that's a very tall order, and one not likely to be filled.
Martin, on the other hand, has room to grow, and could easily surpass his hype, loud as it may be. First, his season was overshadowed by Peterson's monster year, hence the surprise when people learn that Martin's 51.2 points in Week 9 beat Peterson's best week week by 19 points. And it wasn't just one week. Martin had 32.9 points in Week 8 (still better than Peterson's best game), and 24 in the season's final week. So the upside is there, which is particularly important since two of Martin's four single-digit games came in the first five weeks, when the rookie was still adjusting to the NFL game, and when his coach and offensive coordinator --- both rookies themselves last year (Greg Schiano was in his first year as head coach, and 2013 was Mike Sullivan's first year as an OC after years coaching QBs for the Giants) --- were figuring out how to use him.
Second, it's hard to believe, but Martin was running behind a battered offensive line that was missing its two best players, guards Davin Joseph and Carl Nicks, for most of the year. Both those guys should be healthy by the start of this season, which means even more of a push up front.
The continued presence of Schiano and Sullivan on the sideline should also give comfort to Martin owners. They were not afraid to hand him the ball early and often, in part because Martin rewarded their trust by hanging onto the rock, fumbling just once in his 368 total touches (319 carries, 49 receptions). They also leaned heavily on him in the passing game, and the Hamster rewarded his coaches' faith here too, averaging 9.6 yards for each catch. His 49 receptions came on 71 targets, and there is no reason to project either number to decrease. When it comes to evaluating risk for top running backs, those receiving numbers are huge because they mean strong production even against stout run defenses or when playing from behind.
Now, here is where you say wait, I'm not spending my money on a one-year wonder when Peterson has been good since 2007. And yes, you'd be right to worry about whether any rookie can repeat a good freshman year. But all players come with risk, even All Day. Peterson has only played 16 games three times, and, in six seasons, has only topped Martin's 1,454 rushing yards twice. And if you add receiving yards to the mix, then 2012 was the only time that Adrian Peterson amassed more total yards than than the 1,926 that Martin had last year. Read that again: Adrian Peterson, who is by far the best running back in the NFL, and perhaps its best player, the closest thing to a sure thing in fantasy football, has only beaten Martin's rookie yardage total --- a total accumulated on a less-than-stellar offense and behind a decimated offensive line --- once.
Interestingly, Martin's rookie year tracks Peterson's fairly closely. Each player exploded in his first year, highlighted by a few monster games (Peterson hit the 200-yard mark twice in 2007, including a 296-yard, three-TD game against the Chargers that still boggles the mind). But even with all that early success, AD came back at least as strong in 2008, adding 400 yards to his rushing total in his second year. There is no reason we won't see something similar from Martin.
Again, and we can't say this enough: auction leagues are all about how many points you buy with each dollar. Peterson will get you a ton of points, but it will cost you dearly. Pay it if you want to, but good luck scraping a team together with the leftover change.
Right now, you can get Martin for about $13 less than Peterson in leagues with a $100 cap. And that's why, when I hear Peterson's name on draft day, I'm going to pour myself a drink, put up my feet, and watch my buddies blow their cash. Then I'll pour another one when I get Martin and his 1,926 yards and twelve touchdowns and healthy offensive line for a fraction of the price.
Check out our in-depth analysis on all fantasy running backs here.